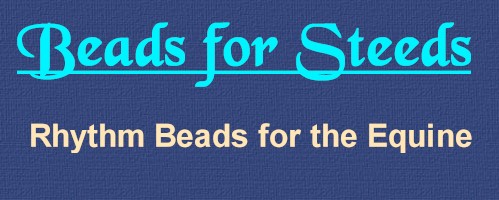 Rhythm Beads are used to enhance a natural rhythm. Much like a musician uses a metronome for timed beats, the gentle sounds of the bells accentuates the rhythm of the horse's gaits and encourages your horse to follow a tempo or cadence. You can feel and hear the gaits, the timing and counting of the strides, and are useful for adjusting the tempo of the horse's movements. The sound of the bells help riders pick up the correct diagonals and proper leads. They are a valuable training aid used to improve both rider and horse's performance in addition to being a wonderful "jewelry" accessory to match tack or change out for different events and Holidays!

Also known as "Speed Beads", Rhythm Beads have been used to encourage a faster and harder pace for speed events. They have gained recognition and popularity from jumpers, gaited riders, endurance riders, dressage riders, trail riders, barrel racers, horse trainers, and riding instructors. On trails, the bells alert wildlife and other riders of your approach and can help a spooky horse relax. In training, the soft jingle cadence helps the horse move into a more even and consistent gait while at the same time has been beneficial to many riders in keeping their own movements coordinated with their horse.


On top of that, Rhythm Beads are fun to listen to and wonderful to see!

Rhythm Beads are intended for decoration and used for training aids and riding.
Do not leave on a horse unattended in paddock, pasture, or stall

Instructions:
These are handmade and uniquely different. Polyester cordage is used for stringing the beads making it simple to clean with plain water. A mild soap can be used on more stubborn dirt. Hang to dry.
Current items for Sale.
Please click on image for larger photo.
All bead patterns can be reproduced and most pendants can be matched.
Want a complete set? Any Rhythm Bead necklace can have a
matching Mane/Tail Clip. Or Bridle/Saddle Clip. Or all Three!!
Even the Bridle Charms can be coordinated!
| | |
| --- | --- |
| RB = | Rhythm Bead Necklace |
| Regular Set = | RB Necklace plus Mane Clip |
| Full Set = | RB Necklace, Mane Clip, and Bridle Charm |
Pricing Information
The price of a RB necklace is $10.00 and all of the items below are available at that price. Price changes when extras are added such as pendants, Harmony Bells, charms, etc. When looking at the items shown on this page, please keep this in mind. In some of the photos you will see examples of the RB along with Mane Clip and Bridle Charm. These are included in the photo to give you an idea of what these would look like if you wanted to order a set. A list price of $10.00 means just the RB. When ordering, please let me know what you are interested in and type of set you want. I will then let you know what the cost is for each particular item.
In addition, all necklaces with pendants can be reproduced with conchos. All necklaces with conchos can be reproduced with a pendant of your choice. Pendant availability changes weekly. New ones are added as they become available. Please check the Your Design page to see what is in stock.
What are Harmony Bells?
Harmony Bells are an extra set of 4 smaller bells. With these added, the RB will have a total of 8 bells in two different sizes. Together, these create a harmonious sound. Delightful and relaxing to hear.
Color Codes:
Op - Opaque P - Pearl M - Matte T - Translucent GL - Glitter

Featured Item!
Breast Cancer
Awareness
Set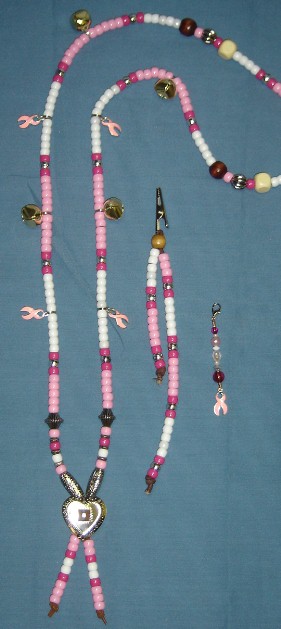 RB001
"Wind Song"
P Brown, P Lt Green, P Ivory, P Lt Blue
RB002
"Chaco Canyon"
RB003 -
"Corn on the Cob"
RB004
"My Pretty Pony"
RB005
"Americana"
RB006
"Maize"

RB007
"Hunters Camo"
RB008
"Maize" Variation
RB009
"Berry Cheesecake"
RB011 "Renaissance"
RB012
"English Garden"
RB013
"Purple Elegance"

RB014
Berries Delight
RB015
"Mexican Heather"
RB016
"Mystic"
RB017
"Saddle Blanket"

RB018
"Forests and Lakes"
RB019
"Sunflower & Dew"

RB020
"Geode"
RB021
"Medicine Hat"
RB022
"Sioux War Spear"
RB023
"Old Glory"
RB024
"Apache"
RB025 "Dreamcatcher"

RB026
"Desert Sun"
RB027 "Clearsprings"
RB028
"Royal Crown"
RB029
"Silver Dollar Saloon"
RB030
RB031
"Amish Country"

RB032
"Lucky Rider"
RB033
"Pine Tree"
RB034
"Lakota Medicine Bag"
RB035
RB036
"Pretty in Pink"
RB037
"Blood Brothers"

RB038
Variations on Blues
RB039
"Rocky Mountains"
RB040
"Glacier Lake"
RB041
"Green Paths"
RB042
"Peacock Feathers"
RB043
"Aqua Springs"

RB044
"Waterfall Variation - Down River"
RB045
"Watermelon"
RB046
RB048
"Highwoods"
RB049
"Ocean Waves"
RB050
"Riding the Hills"

RB047 - Breast Cancer Awareness


Price:

RB - $13.00
Reg Set - $15.00
Full Set - $16.00
Tail Ribbon Clip - $3.00 each
RB with Ribbon Pendant - add $2.00

RB051
"Shaman"
RB052
"Southwestern Dreams
RB053
"Sunflower and Dew"
RB054
"Totonka"
RB055
"Berries Delight Variation"
RB056
"Duck Pond"

RB057
"Fire at the Lake"
RB058
"Florida Sunshine"
RB059
"Pink Fantasy"
RB060
"Mustang Rider"
RB061
"Tea Party"
RB062
"War Pony"

RB063
"Bay Pinto"
RB064
"High Woods"
RB065
"Hunting Season"
RB066 "Knights-N-Silver"
RB067
"Mesa Verde"

RB068 - "Navajo"
RB069 - "Summer Days"
RB070
"Cliff Palace"
RB071
"Peacock Feathers Variation"
RB072
"Touch of Equine Class"
RB073
"Earth and Sky"

RB074
"Moonstone"
RB075 "Leprechaun"
RB076
"Waterfall"
RB077
"Sky High"
RB078
"Autumn Leaves"
RB079 "River Ride"

RB080
"Down River"
RB081
"Amethyst"
RB082
"Blue Waters"
RB083
"Easter Parade"
RB084
"Fresh Mint"
RB085
"Hearts in Love"

RB086
"Mountain Springs"
RB087
"Sioux Peace Pipe"
RB088
"Winter Green"
RB089
"Popsicle"
RB090
"Secrets"
RB091
"Treasures"



Imagine fields of the famous Texas Bluebonnets dotted with splashes of bright Indian Paintbrush flowers. Gorgeous!
RB092
"Texas Bluebonnet"
RB093
"Woodland Fairy"
RB094
"Bahama"
RB095
"Cool Waters"
RB096
"Precious Legacy"

RB097
"Dazzle"
RB098
"Berry Farm"
RB099
"Cool Breezes"
RB100
"Shimmers"
RB101
"Royal Moroccan"
RB102
"Bear Paw"

RB103
"Desert Springtime"
RB104
"Sails"
RB105
"Commanche Point"
RB106
"Saddle Blanket Variation"
RB107
RB108
"Chaparral"

RB109
"Dunes and Tides"
RB110
"Seaside Dunes"
RB111
RB112
"Fiesta"
RB113
"Mohican"
RB114
"Forest Meadows"

RB115
RB116
"Northern Lights"
RB117
"Dragon Warrior"
RB118
"Mulberry Tree"

Webmaster: Debdemer@aol.com
Send mail to debdemer@aol.com with questions or comments about this web site.
Copyright © 2002 All rights reserved.
Last modified: 06/14/2012